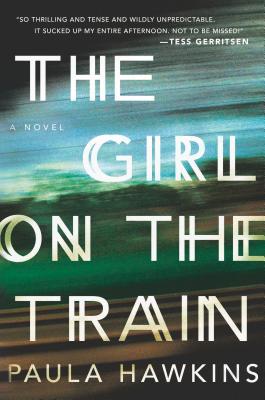 3 1/2 lovely stars
"Hollowness: that I understand. I'm starting to believe that there isn't anything you can do to fix it. That's what I've taken from the therapy sessions: the holes in your life are permanent. You have to grow around them, like tree roots around concrete; you mold yourself through the gaps"
― Paula Hawkins, The Girl on the Train
Yikes. Talk about depressing. That was the undercurrent of the main character, Rachel. Call her a drunk, call her an obsessive creep, call her whatever you want and it will probably fit her to a T. Hawkins made her a transparent woman who drowned away her sorrows and neuroses in wine, and plenty of it.
And oy vey, are there plenty of sorrows. She's still madly in love with her ex-husband, verging on the cusp of being a stalker toward him, his mistress turned new wife, and of course, one creepy scene involving their new baby.
Oh, and speaking of new wife, I don't care how Paula Hawkins tries to spin her, I just won't like her no matter what. I can't be besties with a character that is completely arrogant about her disgusting and inappropriate behavior. Yeah, maybe I sound like a puritan that belongs in the 1800s, but so be it. I wish we could trust people more, especially women, but unfortunately a few bad apples spoil the whole bunch. Here's a short excerpt of her nasty ass:
"I miss being a mistress. I enjoyed it. I loved it, in fact. I never felt guilty. I pretended I did. I had to, with my married girlfriends, the ones who live in terror of the pert au pair or the pretty, funny girl in the office who can talk about football and spends half her life in the gym. I had to tell them that of course I felt terrible about it, of course I felt bad for his wife, I never meant for any of this to happen, we fell in love, what could we do? The truth is, I never felt bad for Rachel…. She just wasn't real to me, and anyway, I was enjoying myself too much. Being the other woman is a huge turn-on, there's no point denying it: you're the one he can't help but betray his wife for, even though he loves her. That's just how irresistible you are." – Paula Hawkins, The Girl on the Train
Moving on.
This is a classic psych thriller, mystery whodunit that might keep you turning page after page just to get to the end. The only difference between this story and a lot of others is that most of the characters are generally unlikable. That's ok though, it just makes them more realistic in my opinion.
You've probably read countless comparisons between The Girl on the Train and Gone Girl by Gillian Flynn, and all that's true, but….this book deserves to stand on its own two feet and be recognized for being the awesome and dark story that it is.
So go run out and buy it, borrow it, rent it, whatever. Just don't steal it cuz nobody likes a thief.
~Rebbie
https://www.goodreads.com/user/show/6582211-rebbie