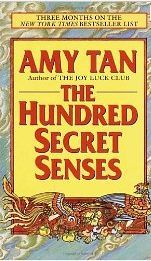 I read The Joy Luck Club years ago (after watching the movie), and now I'm kicking myself that I've let years and years pass before picking up her other novels. I could've been treasuring these books all along, but maybe this is a blessing in disguise, because Amy Tan's novels require a certain type of womanly maturity to fully appreciate her stories that can only come with age and experience. In fact, I think I should re-read TJLC because there are probably lots of subtle things that went right over my head. Ahh, the joys of being a naïve teenager.
Anyhoo, The Hundred Secret Senses is told from the POV of a half-Chinese American woman named Olivia, who lives in CA, is estranged from her husband, has very little appreciation for her older half sister from China, and goes on a trip with the two of them back to her sister's hometown of Changmian.
I overly simplified the book, but basically it's a story about a woman at a crossroads in her life who is teeming on the edge of bitterness and ingratitude, but is also in self denial about this. She's actively pretending that she has no problem with divorcing her husband after 17 years of marriage, and is choosing not to open up to her loving and nurturing sister Kwan, despite the fact that Kwan has been more like a warm and affectionate mother to her than her own biological mother has ever been.
I gave Amy Tan an extra star just for writing the character Kwan the way she did. Kwan's warmth and positivity, her never ending love and forgiveness toward her family, coupled with her firm belief in herself and humble confidence is awe inspiring. My heart ached as I stayed up late last night, flipping through page after page of Kwan's story, past life and present. I would give almost anything to have a sister like her, or just a relative like her. She's the symbol of what has been missing in my life since I was born, so it was a little difficult to overlook Olivia's ingratitude and immaturity.
Speaking of immaturity, it was interesting to me that Olivia reminded me more of a woman who would have been a teenager/college student in the 80's, rather than during the Vietnam era. I honestly have no idea why, maybe she just comes across as a younger soul for some reason, or maybe it's because she's 12 years younger than Kwan, so the years apart put a spotlight on Olivia's tendency to act like a stereotypical bratty sibling.
That's not to say I didn't like Olivia. In fact, a lot of the choked back tears I held came from reading about her deep insecurity and fears of losing her husband to a woman she can't even compete with. That's so unfair, but it's the way the cookie crumbles sometimes. It's just sad that almost two decades passed before Olivia was able to begin dealing with her feelings, and the ending summed that up in a realistic way, rather than giving it the typical Hollywood ending that cheapens otherwise good stories.
And that's one of the reasons I know how much Amy Tan loves the stories she creates, because she gives not only her characters respect, but her readers as well. She gives her characters the space they need to sort through grief, sadness, love, etc., rather than just wrapping everything up in a neat little bow and handing it to readers/viewers like so many other books and movies do.
It always gives me a crazy case of the angries when they do that.
Speaking of wrapping up, I think I'll do just that with a toast to Amy Tan, one of my new favorite authors.
Cheers!
~Rebbie
https://www.goodreads.com/user/show/6582211-rebbie